Custom Pipe & Tubing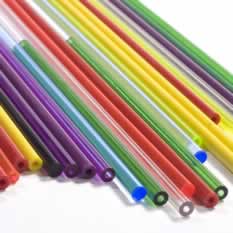 PVC Tubing in Custom Colors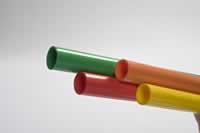 Extruded Tubing & Pipe
At Crescent Plastics, we extrude dozens of materials into thousands of custom shapes, but custom tubing and PVC pipe make up a significant part of our production volume. As a manufacturer of custom PVC tubing and plastic pipe products, Crescent Plastics serves many industries including furniture, lawn and garden, POP display and appliance manufacturing. In addition to PVC tubing, we offer extrusions that utilize other commodity materials such as ABS, HIPS, PE, and PP.
We're often asked to provide commodity grade PVC tubing and pipe from 1/2" O.D. all the way to 4 1/2" O.D., but with special characteristics. Some customers want no markings on their PVC tubing. Others want custom tubing with markings to facilitate assembly of their products or to indicate part numbers. Many request specially formulated, impact- and weather-resistant extruded tubing for furniture, gazebos, and other outdoor consumer goods. Most have specific length and/or packaging requirements. Custom tubing with specialty colors and custom finishes are popular with our customers.
The same engineering expertise we bring to our more complex custom products is used in creating our extruded tubing and pipe products. Our skill and production capacity ensure delivery that's on spec, on time, and on budget. Call us today to discuss how Crescent Plastics can deliver the PVC tubing and plastic pipe that you need.
Contact us for solutions to your most demanding Custom Tubing projects.