Commodity Thermoplastics
Crescent Plastics can extrude a wide variety of materials in custom profiles and tubing including commodity thermoplastics such as:
Acrylic (PMMA)
Acrylic is an amorphous thermoplastic polymeric material, which has superior clarity, exceptional weather ability, and good chemical resistance.  In addition, acrylic offers unique coloring and blending and can be provided with a frosted or diffused appearance.  Acrylic is an excellent material for Point of Purchase Displays, signs, appliance, and LED light lenses.  Acrylics are often sold under brand names such as Plexiglas, Lucite and Optix.
Acrylonitrile Butadiene Styrene (ABS)
Acrylonitrile Butadiene Styrene is excellent for extrusion and is used for a range of applications such as refrigerator trims, bumpers for POP Displays, Piping or Tubing, HVAC parts, building and construction applications, and toys.  ABS is known for its impact resistance, toughness and lightweight.  Sunlight can cause ABS to degrade.
High Impact Polystyrene (HIPS)
HIPS is a material that's well-suited for extrusion.  Appliance manufacturers use HIPS for Air Ducts, Wire Covers, and Retainers. In the POP market HIPS is used for Sign and Caption Holders.  HIPS can be easily colored and is light in weight.  Sunlight can cause HIPS to degrade and it is not very chemically resistant. 
PVC Rigid and Flexible (Clear and Pigmented)
PVC has a wide range of uses in extrusion from piping/tubing to building and construction applications.  PVC is available in rigid and flexible durometers.  Rigid PVC is strong, lightweight chemical resistant, and weather-able. Flexible PVC is used for gaskets and seals.
Polypropylene (PP)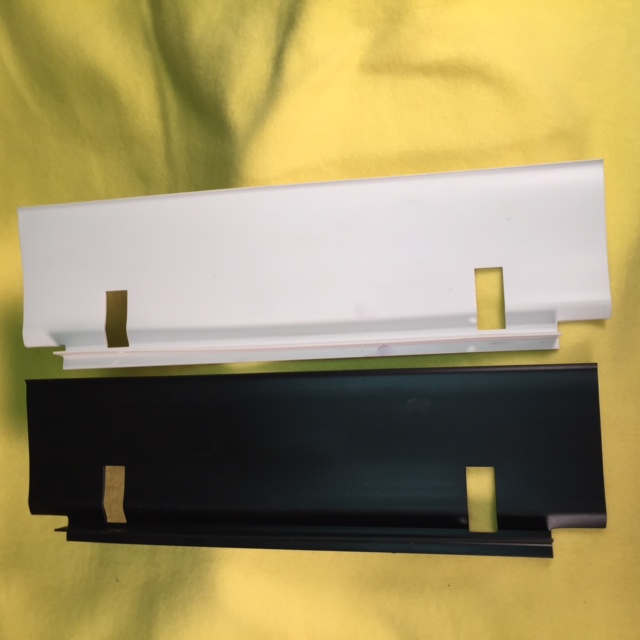 PP is known for its chemical resistance and toughness.  PP is used in appliances and flue gas desulfurization scrubbers in coal-fired power plants.  Glass Fiber and Talc can be blended into Polypropylene to provide further stiffness and rigidity.  Because it degrades in sunlight, Polypropylene needs UV absorbing additives to protect it before it can be used outdoors.
Polyethylene (LDPE and HDPE)
Low-density polyethylene (LDPE) can be found in refrigerator tubing. High-density polyethylene is a thermoplastic with high tensile strength and is used to make toys, milk containers, water filtration pipes, and corrosion-resistant piping. 
Polyethylene Terephthalate Glycol-Modified (PETG)
PETG is a translucent thermoplastic that is great for impact resistance and can be found in Point-of-Purchase Displays.
Thermoplastic Elastomers (TPEs)
TPEs are more elastic than other thermoplastics and are used for gaskets, flexible grips, and seals.  TPE's have good colorability, UV resistance, weather-able, halogen-free, ozone resistant, and adhesion.
Thermoplastic Olefins (TPOs)
TPOs are combinations of PE (polyethylene), BCPP (block copolymer polypropylene), (polypropylene), rubber, and can be reinforced with a filler such as carbon fiber, fiberglass, or talc.   TPO's are used for trailer skirts on semi-trailers and air dams on cars.  This material is weather-able, chemically resistant, has excellent stiffness, cold temperature impact (down to -40 degrees F), and low thermal expansion.
We have economies of scale to help provide competitive costs for any custom profiles you are looking for. Contact Crescent Plastics for more information or request a quote