Light Fixture Lenses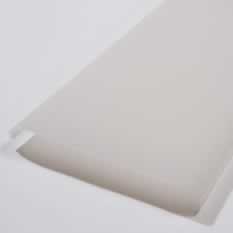 Frosted Acrylic Light Lens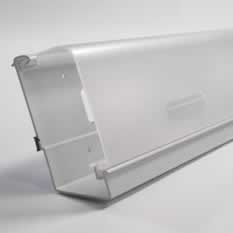 Extruded plastic lenses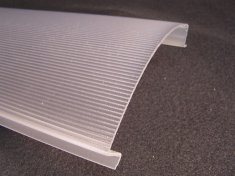 Diffused Acrylic Light Lens
Crescent Plastics can help you choose the right level of diffusion, which is critical for extruded polycarbonate LED lens profiles to provide the proper LED performance. Crescent provides unmatched design support for numerous applications including: material blend, diffusion, efficacy, aesthetics, fit, cost and offers quick turnaround times on tooling projects. We manufacture polycarbonate extrusions and acrylic extrusions with different levels of frost and diffusion to provide the proper light transmission and hiding power for your LEDs. For additional special effects, Crescent can also supply co-extruded LED lenses combining different colors or levels of diffusion. Our in-house tooling facility allows us to build all plastic extrusion and punch dies internally, which ensures optimum quality, timing, and cost minimization. Crescent is ISO-certified and offers plastic extrusions that are made to standards which exceed all similar competitor extruded polycarbonate products.
Polycarbonate Extrusions
Polycarbonate is commonly selected for a variety of applications due to its great versatility. Polycarbonate extrusions have high impact resistance, stiffness, moisture resistance and resistance to heat. At Crescent Plastics, we have years of experience dealing with extruded frosted polycarbonate lenses and extruded diffused polycarbonate lenses, designed specifically for LED lenses.
We fabricate clear polycarbonate extrusions, in a flame retardant (FR) grade, which meets UL 94V-0 in a 1mm (0.040") thickness. In addition, this polycarbonate is also available in several different diffusion levels ranging from clear at 91.5% light transmission to diffused with 63.7% light transmission at 1 mm thickness.
Acrylic Extrusions
Acrylic extrusion is an excellent option for LED lenses. At Crescent, we can provide extruded frosted acrylic lenses for any lighting application. Benefits of acrylic include durability, flexibility and UV resistance.
Crescent Plastics manufactures acrylic lenses in several blends to provide the right amount of diffusion.  New unfrosted and frosted acrylics provide diffusion levels from 92% to 84% light transmission for resolving pixilation issues. 
Custom Extrusions to Suit Your Application
We can also help to reduce your cost by blending in color concentrates to find the right amount of diffusion at the right price for your LED lens application.  The different levels of diffusion can eliminate the need for costly coatings or Mylar inlays, which will save you money.
Also, we have new reflective acrylic and extruded polycarbonate materials.  The benefits of these materials are:
~97% reflective surface
Replaces expensive reflective film and coatings
Improves lighting efficiency and design
We can also enhance the reflectivity with the application of foil to your profile.
Contact us to find out how we can help you with your LED lens applications. Request a quote today.