Lighting Extrusions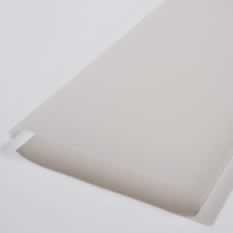 LED Light Lens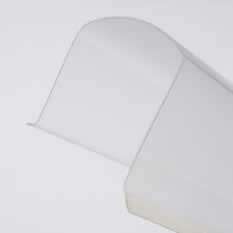 Co-extruded light lenses

Infrared Lens
Extruded plastic lighting lenses are used by a wide range of home, commercial, industrial and medical applications and work by spreading or scattering light. Diffuser panels are affixed to either the bottom or side of a light fixture and are manufactured in semi-transparent and translucent options. Acrylic light diffusers control the brightness of harsh lighting to create a soft lighting effect. They can also protect lighting fixtures from dust and help conserve energy by providing more even lighting that reduces the need for additional fixtures.
Polycarbonate diffusers and acrylic light diffusers are perhaps the most common types of diffuser lenses, though other materials may also be used. Extruded plastic lighting lenses come in a variety of shapes ranging from smooth to contoured covers. Our custom-made lighting diffusers are manufactured in frosted or clear extruded acrylic and can have colors, texturing (such as ribbing and prismatic patterns), or films added to create a customized look.
What Are the Different Types Extruded Lenses?
Extruded plastic lighting lenses are manufactured in lay-in, snap-in, clip-on and other options to fit virtually any type of lighting. Common types of diffuser panels and plastic lighting lenses include:
Light diffusers and lenses
Display light covers
Architectural Lighting
Outdoor lighting lenses
Low Bay lenses
High Bay lenses
Industrial lenses
Retail lenses
Commercial lenses
Recessed lenses
Surface mount lenses
Refrigerated display lenses
And more
We Provide OEMs with Extruded Plastic Lighting Lenses and More
For over 65 years, Crescent Plastics has been extruding acrylic light diffusers for lighting applications. The lighting industry has recently begun to transition into more energy efficient LED fixtures, and we are part of this technology trend. We've been working with material suppliers to develop specific formulations for use in improved acrylic and polycarbonate extrusions, extruded LED lenses, LED light diffuser acrylic lenses, LED light lens covers, and dust covers.
From standard acrylic lenses and polycarbonate lenses to UL fire retardant extruded plastic, we have helped OEMs with optimized material properties for optics, diffusion, and overall performance.
Crescent Plastics offers light fixture lenses for a wide range of applications. We provide full design support and ensure quality and consistency by building all extrusion and punch dies in our in-house tooling facility.
Request a quote or contact Crescent Plastics to discuss lighting extrusions for your project.
Design Assistance for Extruded Plastic Lighting Lenses
Our experienced engineers can assist your team at any stage of your product's development. For example, if you already have a completed prototype for an extruded LED light diffuser and are ready to move into production, we can move forward from that point.
For more involved projects, our engineers can take your rough sketch or blueprint and join forces with your team to create the best design possible. We also provide 3D printed samples that allow review of fit and assembly ergonomics. Our use of DFM methodology and our expertise in acrylic and polycarbonate extrusion ensure optimized quality and production economics for your LED light diffuser project. 
Cost-Saving Strategies for Lighting Extrusion
We build all our extrusion dies and downstream tooling in-house, minimizing costs and saving time for our customers. Moreover, DFM methodologies optimize efficiency, which helps our customers get their extruded LED light diffuser products to market sooner, which increases company revenue.
State-of-the-Art Technology for Acrylic Light Diffusers
Light diffusion and transmission are two of Crescent Plastic's strongest assets. Our engineers have the experience and knowledge to ensure that every extruded LED lens cover we produce allows the end user to create the ambience or lighting scheme that he or she desires. 
Our use of online cutting technology enables us to hold tighter tolerances than traditional methods can, providing a more precise extruded plastic lighting lenses and diffuser panels.
Contact Us for Extruded LED Light Diffusers & More
Request a quote on the extruded LED lens, LED light diffuser acrylic lens, or other extruded plastic lighting lens components you need. Contact Crescent Plastics to discuss your project's unique requirements