Extruded Plastic Shapes for POP Displays
Crescent Plastics provides innovative solutions for retail POP (point of purchase) displays. We can produce custom extruded plastic shapes that are both practical and eye-catching, with a variety of materials, colors, and finishes available to give you the perfect POP display for your needs.
Precision Plastic & Acrylic Extrusion for Retail POP Displays
We manufacture extruded plastic shapes for all POP display applications, including:
Shelf talkers
Bumpers
Caption holders
Edge trim
Structural components
Custom PVC Tubing & Pipe
At Crescent Plastics, we design and build all extrusion, fabrication, and assembly tooling in-house. This allows us to closely monitor every step of the production process and ensure that all standards for quality and precision are being met.
We extrude all plastic shapes on-site, as well, giving you reduced costs, consistent quality, and shorter lead times for your projects.
Experts in Custom Extruded Sign Holders
Acrylic sign holders have many other applications beyond just the POP industry, including store fixtures, label holders, and more. Crescent Plastics produces custom-extruded plastic sign frames to match our customers' unique specifications. We can provide custom plastic sign frames in a range of fabricated shapes, materials, colors, finishes, co-extrusions, and assemblies. We're also able to manufacture interlocking plastic displays for retail, an option that can be more cost-effective and environmentally-friendly than using glue.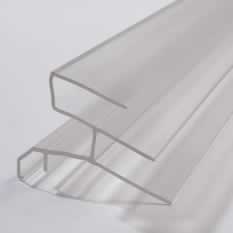 Custom Fabricated Sign Frames
We have complete, in-house fabrication capabilities to create the perfect plastic sign frames or banner stands you need. We use fully-automated and manual equipment to fabricate extruded sign holders that match our customers' design specifications and require little to no additional processing on your end.
Our custom fabrication processes include:
Bonding
Drilling
Hot stamping
Milling
Pad printing
Punching
Routing
Welding
and more
Extruded Sign Holder Materials & Colors
Crescent Plastics can produce extruded sign holders from a wide variety of commodity thermoplastics and engineering thermoplastics. If you're not sure which material will provide the best performance in your application, our team will work with you to find the right thermoplastic for your needs. For example, extruded polycarbonate can provide a robust design in applications where clarity and impact strength is required. Other expensive materials can be supplied in a variety of finishes to simulate wood grain or metal.
Acrylic sign holders are perhaps the most common, but other material options include:
ABS (acrylonitrile butadiene styrene)
Acrylic (PMMA)
General purpose polystyrene (GPPS)
High impact polystyrene (HIPS)
Rigid PVC (clear and pigmented)
PETG (polyethylene terephthalate glycol-modified)
Polycarbonate (PC)
SAN (styrene acrylonitrile)
and many others
A range of foamed plastic materials are available, including a number of proprietary formulations created by Crescent Plastics' material experts. HIPS, ABS, PVC, HDPE, and other options are available, as needed, to give your extruded sign holders the unique properties of foamed plastics.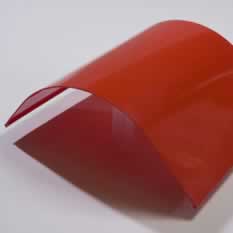 We can provide materials for your plastic sign frames in countless standard and specialty colors—we can match nearly any color requirements! Numerous specialty finishes are also available to meet your needs.
Co-Extruded Sign Holders
For many applications, a single thermoplastic material cannot provide the necessary performance or durability. For these challenges, Crescent Plastics can provide custom co-extruded sign holders that combine two different thermoplastics into a single piece. Coextruded plastic sign frames provide the beneficial properties of their constituent materials to give you a unique solution.
Common coextruded material combinations include:
A rigid material and a flexible material
A clear material and an opaque material
Different colored materials
A thin capstock material over a thicker base material
As your application requires, our material experts can help you develop the perfect co-extruded sign holders for your needs.
Contact Us for Custom Plastic Extrusions for POP Displays & Sign Frames
Crescent Plastics has specialized in custom plastic extrusion since 1949. We have the experience, the expertise, and the diverse manufacturing capabilities to create plastic sign frames and banner stands that match your specifications—and exceed your expectations.
We are your #1 source for custom extruded POP displays and sign holders. Request a quote or contact us to get started on your project.