Custom Plastic Fabrication
Plastic fabrication services include the design, manufacture, and assembly of plastic parts for a range of applications. It can also include secondary services for plastic parts including welding, assembly, cutting, forming, bonding, drilling, lamination, and more. Plastic fabricators often prefer using plastic materials because they are a cost-effective, lightweight, and versatile solution for creating high-quality parts for a wide range of industry applications.
How to Select a Plastic Fabrication Process
Part design, plastic material, and production volume are all things you should consider before selecting a plastic fabrication service for your project. The simplicity or complexity of your design can impact tooling costs and may determine whether molding or extrusion is the most cost-effective and efficient solution.
You will also need to consider whether your plastic part will be composed of single or multiple plastic materials, the functional purpose of the plastic in your product, and your product dimensions. Once a material and extrusion process is chosen, the final step is to determine whether your plastic part will require finishing or other secondary services.
Cost Determination Factors for Plastic Fabrication
As with any customized process, the cost of plastic fabrication services varies depending on your project and the type of mold required. Some of the factors that affect the cost of plastic parts fabrication can include:
Parts size and complexity of the part's design
Production volume, or parts per cycle
Type of plastic materials being used
Whether your plastic part involves one or more plastic materials
Secondary processes such as drilling, welding, bonding, and assembly
Figuring out your project budget ahead of time will help your plastic fabricator assist you to find the right process for your plastic parts, including the suggestion of material changes or other cost-saving measures.
Crescent Plastics offers a range of personalized fabrication services to give added value to our plastic manufacturing capabilities. Our automated fabrication processes can save you valuable time and money in your overall production process and result in more complete parts that require less additional processing on your end. We do more of the work now, so you don't have to later.
Contact Crescent Plastics today to get us started on your custom-built fabrication project.
Automated On- and Off-line Fabrication
We utilize fully-automated processes wherever possible in personalized plastic fabrication to ensure superior precision, accuracy, and repeatability. Integrating "assembly line" methods into the part manufacturing process, our on-line fabrication capabilities provide consistent results that save time and labor by eliminating additional handling. Off-line fabrication is also performed in-house as dictated by our customers' volumes and requirements.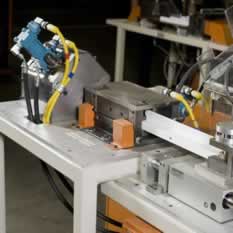 By getting these jobs done quickly, we save our customers time. By performing them all in-house, we save our customers money. By doing them ourselves, we can better monitor the quality of the processes to ensure they meet or exceed customer expectations.
Our custom plastic fabrication capabilities include:
Punching
Milling
Drilling
Routing
Pad printing
Hot stamping
Staking
Welding
Bonding
Overlay and/or tape application
Assembly
Kitting
Packaging
Our expert engineering team will assess your part designs, and the associated manufacturing requirements, to determine where and how the fabrication process can be integrated into production. Our fabrication services add value without significant additional cost and get your parts delivered quicker.
Custom Extruded Plastic Profiles
Crescent Plastics provides customized extruded plastic profiles manufactured to your print specifications. Plastic extrusion is a highly versatile process that allows for tight tolerances and is ideal for applications that require longer lengths or widths. Our plastic extruded profiles are manufactured using a range of engineering thermoplastics and commodity thermoplastics, with specialty plastics available upon request.
Personalized Finishes for Plastic Extrusions
Extruded plastic finishes are used to create a unique, high-end look for plastic extrusions. Specialty finishes are an excellent alternative to using more expensive materials and can be used to give your personalized plastic extrusions a range of finishes including simulated metallic and wood grain finishes or to create a high gloss finish.
Custom-Made Foam Profiles
Foam profiles for thermoplastic extrusions are used for applications requiring lightweight parts without sacrificing strength and durability. Foam plastic extrusions are an inexpensive alternative to standard thermoplastic extrusion and are a great substitute for wood products because it is lightweight, resists rot, is insect resistant and can be cut and shaped like wood.
Custom-Built Plastic Coextrusions
Thermoplastic coextrusions combine two or more thermoplastic materials to achieve characteristics and performance that can't be achieved with a single plastic material. Plastic coextrusions are used to create flexible or rigid materials, join different colored materials, and create flexible hinges to join two rigid materials.
Inventory Management Systems & More
Crescent Plastics also offers a range of inventory management systems and other programs. Customers in all industries can benefit from our capabilities for:
ERP
EDI
ASN
Kanban
JIT shipping schedules
Barcoding/lot traceability
Contact Us to Learn More About Our Customized Plastic Fabrication Services
Crescent Plastics performs a range of fabrication services at our Evansville, Indiana facility. In addition to our plastic extrusion services we provide inventory management programs and in-house engineering, design, and tooling services. 
Request a quote for the customized fabricated plastic extrusions you need.