Custom PVC Tubing & Pipe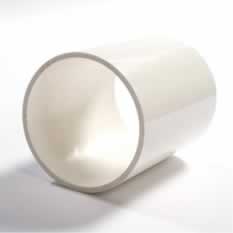 PVC Tubing with no markings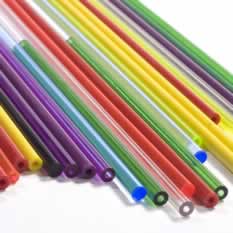 PCV Tubing in Various Colors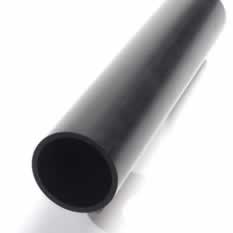 Tubing up to 4.5 inches Outside Diameter
PVC (or polyvinyl chloride, often simply called "vinyl") is one of the best-known types of plastic. This thermoplastic polymer is available in rigid and flexible varieties, giving a level of versatility that many other plastics cannot provide. Additionally, PVC offers a variety of beneficial characteristics that make it ideal for numerous applications. In addition to its high hardness and creep resistance, PVC is:
Chemical resistant
Corrosion resistant
Acid and base resistant
Resistant to fuels
Resistant to alcohols
Resistant to salts
Oxidation resistant
Flame retardant
Highly durable
Lightweight
Applications for PVC Extruded Tubing
Its unique physical and chemical properties make PVC the material of choice for countless uses.
Common uses for vinyl tubing include:
Building and construction
Food and beverage processing
Electrical installation
Medical and laboratory equipment
Automobile manufacturing
Agriculture
Fluid management
Chemical processing and transfer
Industrial and commercial cleaning equipment
Pneumatic and hydraulic systems
and many, many more
Custom PVC Tubing from the Plastic Extrusion Experts
Crescent Plastics produces custom-made extruded PVC tubing and PVC pipe for all industries and applications. We customize our extrusion processes to meet your specifications and can deliver personalized PVC tubing and pipe in the length, diameter, and color that you require. Our equipment is geared to supply extruded tubing in high volumes to meet the needs of even the biggest projects. 
Request a quote for the customized PVC tubing or pipe you need, or contact Crescent Plastics to discuss your project.
Secondary Services Provide Added Value
We also provide a range of secondary operations to give added value to our PVC tubing and to give you more complete products that are ready to use (or as close to it as possible) upon arrival. We do more of the work, so you don't have to!
Options for Custom-Made Extruded PVC Tubing & Pipe
To give our customers the PVC tubing/pipe that meets their unique requirements, we offer many customizable options, including:
A variety of sizes from ½" OD to 4.5" OD
Customizable colored tubing
Specifiable lengths
Secondary operations, including drilling, fabrication, and more
PVC pipe with or without markings
Special packaging
Furniture grade or commodity grade PVC materials
Standard PVC Tubing & Pipe Sizes
We can provide extruded tubing and pipe in a range of standard sizes for orders of 10,000 feet or more.
1" SDR 21
1 ¼" Sch 40
1 ½" Sch 40
2" SDR 26
2 ½" SDR 26
3" SDR 26
4" SDR 26 
Contact Us for Custom PVC Tubing, Pipe & More
When you need PVC tubing or pipe in high volumes and with specific requirements, the team at Crescent Plastics is ready to accommodate your most creative applications.
Request a quote or contact us for all your custom-made PVC tubing and PVC plastic pipe needs.
Note: Crescent Plastics does not accept credit card payments for custom tubing projects at this time.