Extruded Plastic Trim
Extruded plastic trim is used in a wide variety of industries and  applications. Crescent Plastics makes extruded trim for the appliance, POP, consumer products, building and construction, and transportation industries.
Plastic Trim Molding Applications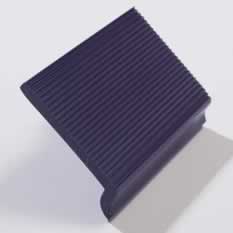 Crescent Plastics can extrude plastic trim molding in a variety of profiles, materials, colors, finishes, foamed profiles, and in co-extruded geometries.
Depending on your needs, we can provide both seat trim edges and decorative trim. Common applications for extruded plastic trim include:
Seat edge trims
Appliance crisper and meat pan trims
Edge trim
J-Clips
U Channels
and anywhere a sharp edge needs to be covered
Custom Edge Trim Profiles
With an experienced, in-house engineering department, Crescent Plastics can turn your edge trim design into the real thing. We use proven DFM (design for manufacturing) processes to optimize your profile design, as needed, for improved functionality, quality, and production efficiency. Our custom profile engineers will make your plastic trim molding easier to extrude, using less material, for superior fit, form, and function in even your most demanding applications. 
Plastic Edge Trim Materials & Colors
We can extrude your custom edge trim from a broad range of thermoplastic materials. If you're not sure which material is best-suited to your application, our team will work with you to find the right option. Our expertise in commodity thermoplastics and engineering thermoplastics includes: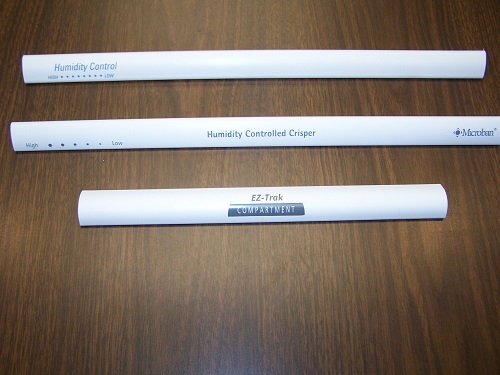 Acrylic (MPPA)
ABS (acrylonitrile butadiene styrene)
Geloy® (ASA)
HIPS (high impact polystyrene)
HDPE (high density polyethylene)
LDPE (low density polyethylene)
Noryl® (PPO)
PC/ABS alloy
PETG (polyethylene terephthalate glycol-modified)
Polycarbonate (PC)
Polypropylene (PP)
Polysulfone (PSU)
Polyurethane (PUR)
PVC (rigid and flexible)
Thermoplastic elastomers (TPEs)
Thermoplastic olefins (TPOs)
Ultem® (PEI)
Our thermoplastic materials are available in a huge selection of standard and specialty colors. We can match nearly any color requirements. A variety of specialty finishes are also available to meet your specifications.
Foamed Plastic Trim Molding
We can produce custom edge trim from a range of foamed plastics, and have developed a number of proprietary foamed plastic materials. We work with HIPS, ABS, PVC, HDPE, and other materials to create plastic trim molding with the unique properties of foamed plastic. If your project could benefit from the use of a foamed plastic, our engineers will help you find the ideal material for your application and performance requirements.
Co-Extruded Plastic Edge Trim
In many instances, a single thermoplastic cannot provide the level of performance the application requires. Co-extruded plastic edge trim combines the characteristics of two different thermoplastics in a single piece, giving you the beneficial properties of each. Coextrusions can merge rigid and flexible materials, different colored materials, thin capstocks over thicker substrates, and a range of other disparate material options. As needed, our expert team can help you develop the ideal coextrusion for your application.
Learn About Custom Plastic Edge Trim Molding & More
Crescent Plastics has been on the cutting edge of extruded plastic trim for over 65 years, providing innovative products with a customer-first mentality. With our diverse range of fabrication services and materials, we can meet your needs for plastic trim molding.
Request a quote or contact us for cost-effective, custom extruded plastic trim.